Ada Thorne (née Shelby) is the fourth and only female of the Shelby sibling. She's the Head of Acquisitions of the Shelby Company Limited. She's a Communist. She married a known Communist Freddie Thorne and has his son, Karl Thorne.
Character History
Edit
Background
Edit
Ada's from criminal Gypsy family the Shelbys, daughter of Arthur Shelby Sr., only female of the Shelby sibling. Her father walked out on his own five children and her mother died. Aunt Polly looked after her and her brothers since they were young.
Series 1 · 1919
Edit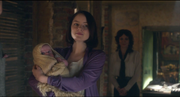 Ada is in a secret romantic relationship with known Communist and Thomas's ex-best friend, Freddie Thorne. In the midst of a police raid, Freddie is forced to leave Birmingham, before Ada discovers that she is pregnant with Freddie's child. Uncertain about her future with Freddie, she, heeding Polly's advice, planned to abort her child. However, Freddie shows up at the train platform when Polly and Ada are on their way to Cardiff for the planned abortion, and they are reunited and eventually married.
Series 2 · 1922
Edit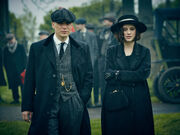 Following Freddie's death, Ada has moved to London. Her support for the Communist cause leads to a disapproval of the lifestyle of her family and this results in her self-imposed isolation from the Shelby Family. However, Thomas still pays her visits and looks out for her welfare. Ada accepts his concern but is still critical of his lifestyle.
Series 3 · 1924
Edit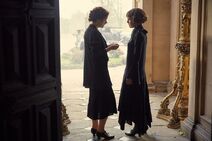 Series 4 · 1925-1926
Edit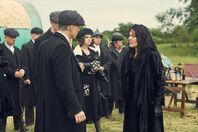 December 1925. the Shelbys receive a mysterious letter on Christmas Eve from
Luca Changretta
, They return to the only safe place they knows: 
Small Heath, Birmingham
. Tthe Shelby family must find a way to put differences aside, work together, take up arms and fight for survival.
Relationships
Edit
Freddie Thorne
Edit
Arthur Shelby Jr.
Edit
Thomas Shelby
Edit
John Shelby
Edit
Finn Shelby
Edit
Aunt Polly
Edit
"I came back for love. And common sense." Ada Shelby to Thomas Shelby
"Tommy Shelby is going to stop the revolution with his cock." -- Ada Shelby to Thomas Shelby
Image Gallery
Edit
Ad blocker interference detected!
Wikia is a free-to-use site that makes money from advertising. We have a modified experience for viewers using ad blockers

Wikia is not accessible if you've made further modifications. Remove the custom ad blocker rule(s) and the page will load as expected.