Billy Kimber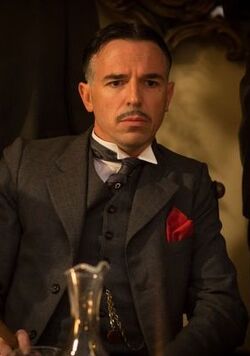 Titles
Boss of the Birmingham Boys
Origin
Birmingham, England
Allegiance
Birmingham Boys
Billy Kimber
runs most of the legal tracks outside of London. He has policemen on his payroll. He has an assistant,
Roberts
.
Series 1
Edit
After finding out that his races were fixed by the Peaky Blinders gang, Billy Kimber decides to pay them a visit to tell them he will shoot the leader, Thomas Shelby, in the head.[1] Thomas treats him with respect and offers him an opportunity for them to work together, and Billy eventually agrees. He gets his assistant Roberts to handle the rest of the meeting as he leaves, and Roberts states that they will be at Cheltenham to further discuss business.
During Episode 1.3, at the Cheltenham Races, Kimber's bookies are targetted by the Lee family, however Thomas and the Peaky Blinders stop them. Thomas makes a deal with Kimber to provide security to his bookies, in exchange for legal betting pitches. In exchange, Kimber demands to have Thomas's date Grace for two hours, as part of the deal. Back at his house, Kimber attempts to rape Grace, but at the last minute, Thomas averts it, by bursting into the room and declaring that she has the clap.
During Episode 1.4, Kimber and his assistant Roberts visit the Shelby Home & Betting Shop to hand the Shelby Company Limited their first legal racetrack pitch.
During Episode 1.6, Kimber learns of Thomas's plan to betray him during Black Star Day, thanks to information provided by Grace Burgess to the police. As a result, Kimber brings all of his men to Garrison Lane in front of The Garrison Pub for a gang-war between the Italians and the Peaky Blinders. The coppers, knowing of this event, clear the pathway for Kimber's men to enter the roads without interruption.
Though Kimber has more men and weapons, The Peaky Blinders have a single large machine gun amongst them that Inspector Campbell was unable to retrieve. Kimber shoots Danny Whizz-Bang, who dies on the cobblestones from the injury, but Kimber is ultimately defeated when Thomas Shelby shoots him in the head with a single blow from his handgun. The rest of Kimber's men retreat back to their homes, having lost.
"Nobody works with me. People work for me."—Billy Kimber to Thomas
Image Gallery
Edit
Cite error: <ref> tags exist, but no <references/> tag was found
Ad blocker interference detected!
Wikia is a free-to-use site that makes money from advertising. We have a modified experience for viewers using ad blockers

Wikia is not accessible if you've made further modifications. Remove the custom ad blocker rule(s) and the page will load as expected.