Darby Sabini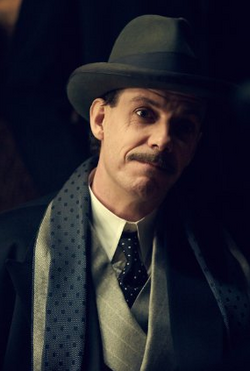 Origin
Birmingham, England;
London, England
Darby Sabini is an Italian gang leader from London, England. He is at war with Alfie Solomons and Thomas Shelby in Series 2.
Series 2
Edit
During Episode 2.1, Sabini and his men slice the inside of Thomas Shelby's cheek and brutally beat him for attacking his Eden Club. They plan to kill Thomas, but are interrupted by Inspector Campbell.
In Episode 2.3, when he realizes that Thomas is working with Alfie Solomons, Sabini decides to send a message. He sends a man to kill the Digbeth Kid, who was in prison working for Thomas.
Sabini is presumably the one who sends for men to shoot Thomas at the horse auction in Episode 2.3, but Arthur ends up killing the assailants that were sent.
During Episode 2.4, Sabini has a meeting with Alfie Solomons. He apologizes for offending the Jews, and allows Alfie's bookies to go back to the Epsom races. They agree to peace between the Jews and the Italians and war against the Shelby family.
However, it is later revealed that Sabini broke his promise to Alfie Solomons, saying that his bookies could not come to Epsom. As a result, Alfie and Thomas end up back in an alliance—and back in business—by the end of Series 2.
During Episode 2.5, it is revealed in a shelby family meeting that Inspector Campbell's policemen raided the Eden Club and returned it to he ownership of Sabini and his gang.
Sabini still manages to get what he wants when members of The Red Right Hand captures Thomas Shelby at Epsom.
"Alfie, you and me, we've been fighting since we was at school. Now also, we've been friends. You know, it goes backwards and forwards." — Sabini to Alfie Solomons
"You fucking lose, you fucking Gypsy bastard! You lose!" —Sabini to Thomas Shelby
Image Gallery
Edit
Ad blocker interference detected!
Wikia is a free-to-use site that makes money from advertising. We have a modified experience for viewers using ad blockers

Wikia is not accessible if you've made further modifications. Remove the custom ad blocker rule(s) and the page will load as expected.