Episode 2.4
Season 2, Episode 4

Vital statistics

Air date
October 23, 2014
Written by
Steven Knight
Directed by
Colm McCarthy

Episode guide

Previous
Next
Episode 2.3
Episode 2.5
"Episode 2.4" is the fourth episode of Series 2 of Peaky Blinders and the tenth episode overall. It aired on October 23rd, 2014.
Thomas attends the funeral of the Digbeth Kid, whose real name was Harold Hancox, only to get a slap in the face from a mourner, before paying off the family for their trouble.
Thomas then makes his way to meet Inspector Campbell, who needs him to carry out another assassination, this time of Field Marshal Henry Russell. Upon arrival, he realizes Campbell and the pro-Treaty Irish Republicans have been working together all along. Thomas informs Campbell that Donal Henry is a spy and that the only way he'll carry out the assassination is if Henry is killed. Henry's body is soon found in a pile of coal, and Thomas starts planning the assassination.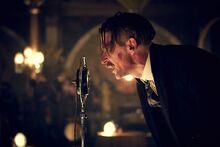 In London, Arthur, whose cocaine habit is scaring his younger brother, leads the Blinders in tearing up the Eden Club belonging to Italian ganglord Darby Sabini.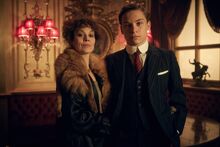 Meanwhile, the Peaky Blinders are in need of a new accountant and Polly's son, Michael, steps up to the plate. Thomas and Polly initially clash over whether or not Michael should be given the job, but eventually they come to an agreement.
Thomas has hired May Carleton to train his new horse, whose name is Grace's Secret.
Meanwhile, Thomas's distillery in Camden Town prepares to send five hundred bottles of whiskey to Prohibition-hit America, thanks to the deal with Churchill for an export licence.
Over in Camden Town, Alfie Solomons sits down with Darby Sabini to talk business, but first, flags are waved and bread is served.They agree to a truce, and war against the Peaky Blinders.
Thomas invites himself over to May Carleton's mansion to see just how the other half live and get a progress report on his horse. She reveals that she has lived alone since her husbands death, and allows herself to be seduced by Thomas.
Michael and Jeremiah Jesus' son, Isaiah, go to grab a drink after work at The Marquis of Lorne. Isaiah and Michael get into a fight with a man, who refuses to drink in the same room with a black man. The fight quickly stops when everyone realizes that Michael is Polly Shelby's son. Michael discovers the family's terrifying power when Arthur and John hear about his scuffle, and the two burn the pub to the ground with the barkeep inside.
On Thomas's return to Birmingham he gets the details of his assignment from Campbell. Thomas assures Campbell that if he is killed, he'll have Campbell killed.
In Thomas's office, he pulls out a letter, dials a number, asks to be connected to the Ritz Hotel in London, and waits. On the other end, a man with a New York accent picks up. Thomas doesn't say anything, and disconnects from the line.
"Is This Desire" by PJ Harvey (Thomas enters May's bedroom at midnight)
Field Marshal Henry Russell is probably inspired by the assassination of Sir Henry Wilson. Wilson was a British army field marshal turned MP and security advisor to the Northern Ireland government. He was assassinated in London in June 1922. Two Anti-Treaty IRA men were subsequently arrested and hanged.
"No one in this room wants to breathe the same air as anyone else." — Major Campbell to Irene, Donal and Thomas
"I've a fine looking cousin, she'll make your life hell" — Johnny Dogs to Thomas