Patrick Jarvis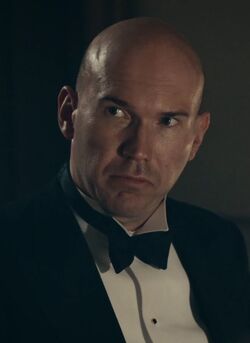 Titles
Member of Parliament
Portrayed by
Alex Macqueen
Patrick Jarvis
i
s a Member of Parliament and a member and representative of
The Economic League
, working with
Father Hughes
.
Background
Edit
Father Hughes hints to his pedophilic tendencies, during a meeting with Thomas Shelby.
Series 3
Edit
Relationships
Edit
You will meet Mr. Patrick Jarvis, MP. He'll probably want to become a trustee. It's just his thing, to drop by in the evenings after a few drinks. —  Father Hughes to Thomas Shelby
Perhaps Mr. Jarvis has been held up at the House of Commons. —  Father Hughes to Thomas Shelby
Image Gallery
Edit
Ad blocker interference detected!
Wikia is a free-to-use site that makes money from advertising. We have a modified experience for viewers using ad blockers

Wikia is not accessible if you've made further modifications. Remove the custom ad blocker rule(s) and the page will load as expected.