Welcome to the Peaky Blinders Wikia
The Peaky Blinders Wikia is about the BBC/Netflix British historic crime series created and written by Steven Knight. Help us expand the wiki, but remember spoilers are inside.
Follow us on TWITTER and TUMBLR, and Like us on FACEBOOK!
Got any questions about the show, the characters, or the Wiki? We have an e-mail account!
Feel free to also contact our admins if you need any help with editing: Wstnwl & QueenBuffy.
Favourite Peaky Blinders Member?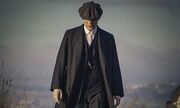 Episode 1.5–
"Episode 1.5" begins with Tommy Shelby visiting the false grave of Daniel Owen. Aunt Polly is bringing food to Ada Shelby and her baby boy trying to cheer her up about to incarceration of her husband, Freddie Thorne, to which she believes is fault of her family. It is shown that Polly has tried coming to Ada before by the rotten basket of food outside her door. Polly takes it with her as she leaves the new basket behind. Read more...

Loading RSS data...