Ruben Oliver
is a charming and well educated portrait artist.
Ruben Oliver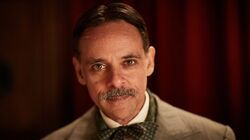 Origin
Birmingham, England
Series 3
Edit
At the wedding of Thomas Shelby and Grace Burgess, Ruben immediately finds himself entranced with Polly Shelby. He speaks to her a number of times, clearly attempting some romantic advances including bringing some champagne to her room but she has yet to trust him.
He attempts to introduce himself to Thomas but is ignored, mainly due to Thomas's focus on Russian business at the wedding.
Later Polly approaches Ruben to commission him to paint her portrait. He again attempts mildly flirtatious conversation but Polly is resistant and reserved. Indeed, she suspects his advances are only because he wants the thrill of dating a gangster. After telling her that his wife was deceased, that he sees her as an artistic eclectic and then openly telling her that he wishes to sleep with her, though she does not shut him out or advance it further herself she does allow his painting and their relationship, as it stands, to continue.
Polly Shelby: "You've got to tell me the reason, otherwise I'll never be able to trust you."
Mr. Oliver: "The truth is that I slept with the wife of one of the colonels who sat for me. But that was 12 years ago. And the aristocracy don't believe in forgiveness."
Polly: "Neither do the Shelbys."
Image Gallery
Edit
Ad blocker interference detected!
Wikia is a free-to-use site that makes money from advertising. We have a modified experience for viewers using ad blockers

Wikia is not accessible if you've made further modifications. Remove the custom ad blocker rule(s) and the page will load as expected.