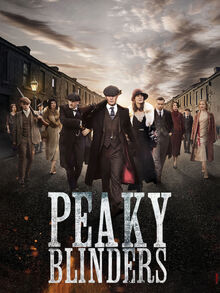 Series 4 is the fourth series of Peaky Blinders. It aired on BBC Two on 15 November, 2017 and ran for six episodes. It is preceded by Series 3 and it is followed by Series 5.
Main Cast Edit
Recurring Edit
Episode List
Edit
Image
Title
Number
Airdate
UK viewers
 

(millions)

The Noose
4.1
15 November 2017
3.44
December 1925. Thomas Shelby OBE has acquired unprecedented legitimacy. The former gangster is also a man alone, estranged from his family and focused only on business. But when he receives a mysterious letter on Christmas Eve, Tommy realises that the Shelbys are in danger of annihilation.

As the enemy closes in, Tommy flees his country house and returns to the only safe place he knows: Small Heath, Birmingham. Facing a more determined and sophisticated threat than ever before, the Shelby family must find a way to put differences aside, work together, take up arms and fight for survival...

Heathens
4.2
22 November 2017
3.31
As the Shelbys come to terms with the shocking events of Christmas Day, Thomas Shelby endeavours to unite his family. Until the current threat is dealt with, their only safe place is together in Small Heath.Thomas enlists the help of tough Romany Gypsy Aberama Gold, who wants something unusual in return. Thomas Shelby's factory manager tells him he has one more meeting - with a mysterious businessman from Paris.
Blackbird
4.3
29 November 2017
3.43
Luca Changretta launch another attack on the Peaky Blinders. Thomas and Polly Gray realises that the Shelbys need to evolve if they are to survive, but some of the family are reluctant to part with tradition. As the strike takes hold at the Lanchester factory, Tommy pays a personal visit to Jessie Eden, but he is outmanoeuvred when she reveals something she knows about his past. Luca Changretta makes direct contact with Polly Gray, the heart of the Peaky Blinders organisation.
Dangerous
4.4
6 December 2017
3.17
The Peaky Blinders are lured by the Italians into a cat-and-mouse chase on the streets of Birmingham. Thomas tries to console himself with a visit from an old flame. As his factory lies idle, Thomas confronts the possibility that the Communists might win and he will be deemed a traitor to his class. Meanwhile, Luca Changretta prepares to spring another trap.
The Duel
4.5
13 December 2017
3.16
Thomas Shelby finds himself engaged in bloody battle with Luca Changretta and his gang. The family gather to find out what happened, but Lizzie Stark has even greater news to break. Polly Shelby shares a rather magical woodland scene with Aberama Gold. Luca Changretta makes his way to London to present a plan to Alfie Solomons.
The Company
4.6
20 December 2017
3.56
It is the night of the big fight - Bonnie Gold versus Goliath. But as the bell rings and the crowd goes wild, dangers lurk in the shadows for Thomas Shelby and his family. When Luca Changretta plays his final ace, he sets in motion a series of events that will change the Peaky Blinders forever.
Marketing
Edit
References
Edit