Winston Churchill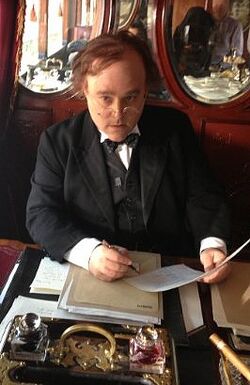 Titles
Secretary of State
Also known as
Mr. Secretary of State, Mr. Churchill
Age
Approx. 50 (born 1874)
Winston Churchill
was the Secretary of State for the Colonies between 1921 and 1922. He was also a soldier, having fought at the battle of Verdun.
Series 1
Edit
He is first seen on a pullman carriage at a train station, the carriage which has been turned into a luxurious office. He hires Inspector Campbell to retrieve his stolen machine guns, a man who he finds amusing but a good candidate for the job. Campbell manages to retrieve the stolen guns, and the Peaky Blinders get away for a short time, but Campbell assures Churchill that the Peaky Blinders will be punished for their actions.
Series 2
Edit
Two years later (1922) Edit
Churchill allows Inspector Campbell to select a man to carry out an assassination for the Crown, and Campbell selects Thomas Shelby. Though he is aware of the Inspector's hatred for Thomas, he allows him the selection. Campbell assures Churchill that once Thomas has assassinated Field Marshal Henry Russell, that Thomas will be hanged for keeping stolen weapons from the Crown. In exchange for carrying out this assassination, Churchill grants Thomas a number of his requests (which are amusing to Churchill):  He asked that the Colonial Office grant him an Empire export licence, covering India, Malay Peninsula, Canada and Russia. Churchill provides him with this temporarily while he does his service for the Crown.
Upon hearing the news of Inspector Campbell's plans to assassinate Thomas Shelby by using members of the Red Right Hand, Churchill uses his connections to save the life of the Peaky Blinder, and sends him a message that he has another job for Thomas to carry out on behalf of the crown.
Series 3
Edit
Two years later (1924) Edit
It is revealed that two years after the death of Inspector Campbell, Churchill is still making deals with Thomas Shelby that benefit the both of them: Churchill continues to get Thomas to carry out assassinations on behalf of the Crown in exchange for very large sums of money, which help expand the profits of the Shelby family business.
Relationships
Edit
"This is England, not Belfast. Bodies thrown in the rivers wash up in the papers here. We must keep the existence of these stolen guns out of the news, otherwise we are simply advertising them for sale. If there are bodies to be buried, dig holes. And dig them deep." — Churchill to Inspector Campbell
Image Gallery
Edit
Ad blocker interference detected!
Wikia is a free-to-use site that makes money from advertising. We have a modified experience for viewers using ad blockers

Wikia is not accessible if you've made further modifications. Remove the custom ad blocker rule(s) and the page will load as expected.